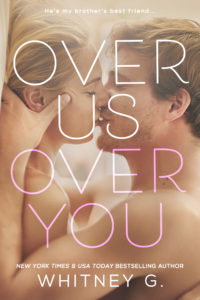 PROLOGUE: HAYLEY
For as long as I can remember, my older brother has been the one constant in my life. Overly protective and loyal to a fault, he's always been there for me when I needed him most.
When I was five, he walked me to school for my first day of kindergarten—distracting me from the fact that our mother was far too stoned on crystal meth to realize where we were.
When I was seven, he held my trembling hand in the back of a packed courtroom as we watched both of our parents being led away to prison.
And when I was eight, he promised me that he wouldn't let the fact that we were placed in separate foster homes keep us apart. He was always "only a couple of blocks away," no matter how many times I switched foster families, and he was always willing to listen to my cries and assure me that he would always be there to protect me.
He promised that I could trust him with anything, so I always told him everything.
Well, almost everything.
Part One
This Can't Be Happening to Me
HAYLEY: TODAY
(Present Day)
Seattle, Washington
FINAL TENANT NOTICE: EVACUATE THE PREMISES BY NOON
The black and bold words in front of my face said it all, but I was still having a hard time accepting the truth. As Seattle's soft morning rain fell over me, I traced my fingers around the words "Tenant Notice," trying not to remember how excited I once was when I first signed the lease.
Months ago, my coffee and wine bar was open and thriving—serving tourists and locals alike whenever they ventured downtown. But now, the only thing I had to show for all the hopes, sweat, and tears I'd poured into every cup of coffee was a soaking wet pink notice of failure.
Sighing, I peeled the paper off the front door and unlocked the building one last time. The only things left inside were the massive glass pantry cases that lined the back wall, a few wooden chairs, and the shop's namesake and motto etched in chalk above the menu board.
Wildest Dreams Coffee & Wine Café: Where Impossible Never Ends…
"Hey, Miss!" A police officer stepped inside, waving a flashlight. "Are you one of the owners?"
I nodded. "Yes, sir."
"Oh, well—" He glanced at his watch. "You've got about fifteen minutes before I'll have to change the lock on this place." He walked over to the bar and ran his hand against the mahogany tabletop I installed months ago. "This shop had some of the best cupcake and coffee pairings I've ever had," he said. "Some of my colleagues and I came here after hours a few times. Well, until Starbucks opened across the street. Can't beat Starbucks, especially in this city."
He laughed, and I gave him a blank stare.
"Thank you so much, Officer."
"No problem!" He smiled. "I mean, if my daughter ever told me she wanted to open a place like this, I'd tell her she should open it anywhere except this city."
I rolled my eyes. "Can you excuse me for a few minutes, please?"
"Thirteen minutes to be exact." He tapped his watch and toyed with the spouts behind the counter. "Oh, wow. You even named each of the beer spouts after a cupcake."
Ugh! I resisted the urge to scream, "Let me put my business to death in peace, please!"
Walking away, I snapped a few last pictures of the hand-painted murals in the hallway. There was one of the Memphis "M" bridge glittering against the night, one of me and my best "non-friend" and business partner Kelly standing in front of Seattle's Space Needle, and of course, one of the secret founder of this business. The man who thought he was giving me tuition for business school every six months while I sank every dime into this dream. My older brother, Jonathan.
With five minutes to spare, I pulled a bobby pin from my hair and etched a final message into the wall.
Thanks for the memories and the dream while it lasted…
Wildest Dreams Coffee & Wine Café was once here.
—Hayley and Kelly
PS—FUCK YOU, STARBUCKS.
FUCK. YOU.
"Are you damaging the property, Miss?" The officer cleared his throat from the other side of the room. "That's an additional five hundred dollars if you are."
"Not at all." I returned the bobby pin to my hair. "I was just saying goodbye." I walked out of the place with him at my heels—ignoring whatever final memory he wanted to share. I pulled my hoodie over my head and stepped into the city's falling rain, heading straight for Pike Place Market.
I took my time walking past the vendors and farmers who were setting their wares and fruits out for a new day. Past the giant, white Ferris wheel that spun slowly in the distance.
I wanted to soak up every mundane sight I'd taken for granted while living here, wanted to cling to my last sense of independence before having to come clean and tell the truth.
Unless I can come up with a Plan B…
When I made it to my apartment, a cramped walk-up in the middle of an alley, I noticed that the door was already unlocked.
What the hell?
I pushed the door open and saw a man with salt and pepper-colored hair tossing things from my kitchen into a pile. I grabbed an umbrella so I could beat him over the head, but he turned around, and I realized he was my landlord.
"Mr. Everett?" I dropped the umbrella and crossed my arms. "What the hell are you doing?"
"What I should've done six months ago." He turned around and narrowed his eyes at me. "Putting your ass out. You and your smart-mouthed roommate, Kelsey."
"It's Kelly."
"It's irrelevant because she's just as broke and incompetent as you are."
"Is this because we're always a few weeks late with the rent?" I pulled my checkbook out of my purse, knowing damn well anything over twenty dollars would bounce today. "I can pay you back right now."
"I doubt it." He held up his hand. "I called your bank when the last check bounced. They said your balance is rarely above eighty-five dollars these days, so the chances of me getting my money for the last few months and this month are slim to none. Are they lying?"
"They're breaking the law," I said. "They can't disclose my information like that. But for the record, I try to keep it at ninety-five dollars. Not eighty-five."
"That's what I thought." He shrugged and tossed my favorite romance books onto the pile. "You've got forty-eight hours to get all of your shit out, and I won't file a lawsuit against you for back-rent."
"Mr. Everett, please give us one last chance to pay what we owe. We had a few unexpected expenses with our shop three months ago, so—"
"Forty-eight hours." He cut me off. "Period." He pulled an envelope from his pocket and handed it to me. "Your boyfriend dropped this off for you an hour ago. I was tempted to open it, but since it didn't feel like a wad of cash, I left it alone."
"Thanks."
"You're welcome." He smiled and pointed to a stack of flattened boxes in the corner. "Get busy packing, young lady. I'll be right back with some duct tape."
I waited until he walked away and took a seat at the breakfast bar. I'd counted on the final day of my leased cafe space being over, but I wasn't prepared for a sudden eviction from my apartment.
Pulling out my phone, I scrolled to Kelly's name and hit call.
Please pick up. Please pick up. Please pick up.
"Hey, Hales!" Her voice was cheery as usual. "Did you get a chance to take a few final pictures of the café?"
"I did. Did you get a chance to talk to the loan company?"
"Yeah."
"Yeah? So, what did they say?"
"Nothing good." She sighed. "They said they would loan money to a homeless person before giving us another chance."
"Well, seeing as though we're about to be homeless in forty-eight hours, can you ask them if that means we qualify now?"
"What?"
I held back my emotions and replayed the last five minutes I'd had with Mr. Everett, while she damn near hyperventilated.
"I think it's time for you to call your brother, Hales," she said after several minutes of silence. "You always said you would go to San Francisco with him for a fresh start if this business didn't work out. "
I said that? "We have forty-eight hours to come up with a plan, Kelly. If I call Jonathan, that means I'm giving up on Seattle completely. You didn't call your older brother yet, did you?"
Silence.
"Thanks for the warning," I said. "You know, a real friend would've given me a heads-up."
"That's why we call each other non-friends." She laughed. "I'll be home in an hour or two, and we'll pack up everything together. Then we'll come up with a plan for the rest of our twenties. We're still young, Hales. Life isn't over because of one failure."
"I hate that you're so optimistic sometimes." I couldn't help but smile. "Would it kill you to let me have a pity party for like five minutes?"
"It really would." She laughed again. "Be home soon."
I ended the call and scrolled to my brother's current name: Mr. Overprotective. My finger hovered over the call button, but I couldn't bring myself to come clean with him right now. If I told him where I really was and what I'd been doing over the past two years, he would fly his private plane here in hours just to grill the shit out of me.
And that's before he gets angry and starts talking in staccato sentences…
To everyone else, my brother was the Jonathan Statham, self-made billionaire and CEO of Statham Industries and one of America's favorite rags to riches stories. His face often graced top-tier technology and entrepreneurial magazines, and his backstory (the version he'd concocted anyway) served as inspirational fodder for dreamers everywhere. The public clung to the idea of a young boy growing up poor in Ohio, working his way through Harvard, and of course, eventually dropping out to found what became the country's top tech company. They especially loved the part about him being generous regarding local charities, funding global initiatives for great causes, and taking care of a younger sister who "wished to live her life in private under a different last name at this time."
Despite his overwhelming popularity, he was just a brother to me. An overbearing, over-protective, yet loving older brother. Then again, even though our age gap was only five years, it often felt like twenty, since he acted more like my guardian.
Tomorrow. I'll call him tomorrow.
I set my phone down and opened the envelope my boyfriend gave to Mr. Everett. I was surprised he hadn't met me at the shop this morning like he promised, that he hadn't joined Kelly and me for the farewell coffee sipping session last night.
Inside of the envelope was a letter and five condoms. Confused, I unfolded the sheet and read.
Dear Hayley,
We're OVER.
Feel free to use the condoms with whoever you've been fucking instead of me over the past few months. I used the rest of the package on Raya last week. (Yes, Raya. The first "amazing" barista you hired.)
I'm done with one-handed nights, one-sided conversations about your shop, and your LIES.
FYI—Your coffee shop was doomed from day one. (We're in SEATTLE where there's literally a Starbucks on every. single. corner. What the hell were you thinking?)
Jacob
PS—Since you're always so "broke," why not just call your brother who is **supposedly** THE Jonathan Statham, right? I honestly can't believe I ever fell for that bullshit.  #donewithyou
I read the last line of the letter and finally let out a pent-up scream. Then I crumpled his harsh words and tossed them into the trashcan. This was my third loss in an hour, and it hurt even worse than the others.
Jacob had followed me from my short-lived business-school days in Memphis to Seattle, to pursue his dreams of working in the cruise ship industry. Even though the past months had flown by in a busy blur of us settling into a new city and struggling to see each other regularly, I thought he believed in my shop, and I thought he understood why I wanted to wait a little longer to be intimate.
I wiped away a stream of tears, shook my head at his cruel confession, and decided Kelly was more than right.
It's definitely time to start over.
HAYLEY: TODAY
(Present Day)
Seattle, Washington
Two days later, I listened to the sound of raindrops tap dancing against a taxi's roof as rounds of thunder roared in the distance. I was grateful that the driver wasn't interested in holding a conversation during this trip, as the only thing I would be able to say is, "I just want to get to the airport. Please."
I looked out the windows as he steered the car through the twisting roads of Washington's mountains, as he sped through familiar lanes I hoped to never see again.
An upcoming sign to my left read, SEATAC Airport, 15 miles.
I pulled my phone from my bag and sent a text message to Kelly.
ME: Heading to the airport. See you in San Fran in four to six weeks.
Her response was immediate.
KELLY: Be safe! Make sure your brother is okay with me joining you there.
I sighed and stared at my brother's name on my contact list again. Today it was: Big Brother (Just Get It Over With!)
I still couldn't do it. I needed to wait a few more minutes.
Instead of making the call, I scrolled through all my contacts and deleted every associate I'd made in this city.
By the time I was done, there were only five contacts left in my phone: Rockville Prison (Dad), a twenty-four-hour hotline for "Girls Who Grew Up without Their Mothers," my brother, Kelly, and "My Chum." The latter was a number I hadn't called in years, but my heart ached at the thought of ever deleting it.
"Which airline are you taking, Miss?" The cab driver's eyes met mine in the rearview mirror as we approached the airport.
"None. Can you take me to the private terminal, please?"
"Right." He laughed, nearly snorting. "I couldn't drop you off there if I wanted to, sweetheart. I'd need an exclusive access pass with the name of the private plane's owner and ID number. We're both big dreamers, I see."
"I have an access pass." I pulled out the silver card my brother had given me years ago and handed it to him. "Private terminal, please."
As he glanced at the name on the card, his eyes widened. He sat up a bit straighter in his seat and cleared his throat. "Right away, Miss."
He proudly handed my access card to the security team when we arrived at the tower that stood in front of the private terminal. Then he steered his cab to the sleek, black glass building at the end of the access road.
Without saying a word, he helped me out of the car and took my suitcases out of the trunk. I didn't mention the fact that he didn't help me at all when I first hailed his cab.
I handed him the last of my money—a single, twenty-dollar bill, and he smiled before rushing back to his car.
Stepping inside the private terminal, I rolled my luggage to the lone seating area and pulled out my phone. I took a deep breath and finally called Jonathan.
"Yes, Hayley?" he answered on the first ring, as usual.
"Hey, Jonathan. How are you?"
"Decent. Did you receive the latest sPhone prototype in the mail last month?"
"I did."
"Well, what did you think of it?"
Nothing, I had to pawn it … "Well, it was great, but—" I couldn't bring myself to tell him the truth. "I dropped it the first day, and it broke."
"I knew the glass on that one was too goddamn thin," he said. "I'll send you another one after we fix some other issues."
"Looking forward to it."
"I'm sure." There was a smile in his voice. "I'm not used to you calling me first these days. Is something wrong?"
Everything is wrong. "No."
"You just called to randomly ask how I was doing?"
"Yeah, I guess."
"Hmmm."
An awkward silence stretched over the line, and I knew the longer it took me to get the words out, the more concerned he would be.
"Wait," I said. "I called because I need to ask you something important."
"I'm listening."
"Does your confidante, Greg, still fly down to Seattle at the end of every month for a weekend getaway?"
"Yes, he does. He insists on it since he claims I'm a demanding boss. Why?"
"Well, um," I said, my voice cracking. "I was wondering if I could fly back with him today and live in San Fran with you for a while to get back on my feet."
"Come again?" The light tone of his voice was gone. "What did you just say?"
"I asked you if I could fly to San Fran, to stay." I wiped away tears as they fell. "I need to leave Seattle and start over."
"Since when do you live in Seattle, Hayley? Last time we talked, which was weeks ago, you were living in Memphis. You've been there since you supposedly hate the West Coast."
"I guess I didn't hate it that much." My voice was a whisper.
"You told me you were finishing your master's in business while looking into specialty schools," he said, his voice tight.
"Is that part true?"
"No."
"So, I'll assume you transferred schools behind my back. If you move here, will you still have all your course credits?"
"I doubt it."
"Well, why not?"
"Because I dropped out of business school over a year ago."
"What?" He sucked in a breath. "When the hell were you going to tell me this? And where the hell has the thousands in tuition money been going all this goddamn time?"
"Jonathan, please." I swallowed. "Can we not do this today? I promise I'll tell you everything, but right now I'm asking for your help, not your judgment."
He let out a long sigh. "How long will it take you to get to the airport?"
"I'm already here."
"Are you in the private terminal?"
"Yes."
"Fine."
"I take it you'll be waiting for me when I arrive?"
"Luckily for you, I won't be," he said. "I'm on a working vacation with my girlfriend this week, and I think I need a few days to calm down after hearing this shit. I'll have a driver there to meet you, though." He paused. "You're not in any financial trouble, are you?"
"Not anymore." I wiped away more tears. "I just need to find where I belong all over again. My business partner, Kelly, will need to come along, too. She'll be coming to San Fran to join me in a month or so. If you could, can you help her, too?"
"I can."
"Thank you, Jonathan."
"Don't thank me until I've seen you in person and gotten the whole damn story. Are there any other random ass requests or last-minute lies you want to clear up?"
I let out a breath. "You're mad at me?"
"No, I'm far from mad at you, Hayley. I'm fucking livid." He paused. "But I still love you. You should've told me about this a long time ago, though. You know I don't appreciate secrets."
"I know. I love you."
"Love you more. Call me when you land."
He waited for me to end the call, and I walked over to the window bay as he instructed. Before I could make it all the way there, a man in a navy-blue suit appeared and grabbed the handle of my suitcase.
"Miss Statham, I'm Nathaniel Matthews," he said. "I'm going to be your pilot today. Should we take off now, or are we waiting for someone else?"
"It's just me."
"Great. Follow me, please." He smiled and led me outside.
The second I stepped onto the tarmac, a man in a black suit rushed over to me with an umbrella and held it over my head. He matched me step for step as we walked across the wet road, all the way up the private jet's silver staircase.
I settled into the first seat, tracing my fingers along the cursive "Statham" that was etched into the wooden hand-rest.
"Hello, Miss Statham." A flight attendant set a bowl of strawberries in front of me. "I'll be here and at your service whenever you need me."
"Thank you." I wiped away another tear and leaned back, waiting for this chapter of my life to reach its last page.
As the pilot called to the control tower for permission to take off, my phone buzzed in my pocket. An email from Jonathan.
Subject: Coming Home.
Hayley,
I think it'll be good to have you home with me. I've booked a suite at the Four Seasons for you this week, and I'll have a permanent residence set up for you and your friend by next week.
I won't ask any questions at this moment, but I will need complete and utter honesty from you when I do. Are we clear?
Also, since you'll be in town this week, I need you to go to an art auction party for me and bid on a few paintings. I'll send details in a couple of hours.
Love,
Jonathan
PS—Corey is still in San Fran. I'm sure he'll be happy to see you again.
Corey? 
My eyes focused on the last line of his email as the plane ascended into the sky, and my heart beat a traitorous rhythm I hadn't felt in years. Corey being in San Francisco changed everything about this new arrangement, and I knew I needed to try like hell to avoid him for as long as possible.
COREY: TODAY
(Present Day)
San Francisco, California
I was beginning to hate everything I once loved about this city. It was still the opposite of New York's crowded streets and over-hyped skyline, the perfect alternative to Silicon Valley's illusion of a stress-free oasis, and the one place where anyone with a dream and the slightest bit of technology know-how could build a start-up company with ease.
But over the past few years, San Francisco had become stagnant. The new people stopped arriving, and every place I ventured was full of people I'd already met. Women I'd slept with before, parties I'd thrown before, business partners I'd dealt with before.
The fog that crept over the Golden Gate Bridge every morning was no longer something I admired for more than a few seconds at a time. It was the usual, same old shit, and it was creating a numbing effect on me.
I had a string of ex-girlfriends I'd never loved and always lost, an even longer string of women I'd left in hotel rooms after unfulfilling nights, and I was constantly fighting an unfortunate truth that I didn't want to face. Despite all the trappings of success and the reputation I'd built for myself, my life was still empty as hell and the things I'd attempted to fill it with only deepened the void.
And now, as I stood on the roof of The Roosevelt Hotel at another art deco party, I looked around and realized that every single person here was either a gold-digging opportunist, a member of the city's elite, or someone I had no interest in talking to again. I was more than certain this night was going to end just like every other night I'd had for the past six months. With me asking myself, "Why the fuck am I still here?"
"Corey Walters!" A brunette I vaguely remembered walked up to me. "How are you doing tonight?"
"I'm fine," I said, not remembering her name and not wanting to hold a conversation. "Hope you are, too."
"I'm amazing! Are you still working in Statham Industries as Chief of Cyber-Security, or have you started your own company?"
"Both."
"Well, when you branch out, will you be opening your new building for a tour? I can have my news team cover your grand opening if you like."
"Do you honestly think it's in a security company's best interest to let the media have a tour of the facilities?"
"No," she said, smiling. "But I think it's in your best interest if we pick up where we left off last time. We never got a chance to finish our night at The Hilton last year, remember?"
I resisted the urge to roll my eyes. I remembered who this woman was now.
Her name was Raina, and if our last encounter were any indication, my night would end better if I jumped off this roof instead of continuing this conversation.
"Are you seeing anyone these days?" she asked.
Come up with an excuse and walk the hell away. "Not at the moment."
"Oh, well that's so sad," she said. "You're too sexy to be alone, you know?"
I stared at her.
"This is the part where you ask me if I'm currently available." She smiled.
"No, this is the part where I can guarantee that you are."
"Funny." She laughed and leaned close. "I can go home with you tonight, and we can reconnect if you'd like."
"I wouldn't, so we won't."
"Okay, look." She smiled. "I know I might've scared you off with my list of turn-ons last time, but I can do regular sex until you're ready to try things my way." She winked. "You'd be surprised how many men enjoy hot wax poured slowly onto their cocks before and after sex. It's good, I promise. And between you and me, I've only burned three guys out of the five times I've done it."
Okay, fuck this. "Excuse me for one minute, Raina. I'll be right back." I walked away, slipping into the crowd and looking for the host. It was long past time for me to go.
"Austin?" I tapped him on his shoulder, and he spun around. As usual, he looked me up and down, assessing to see if his suit was more expensive than mine (it wasn't), and then he extended his hand for a handshake and pretended as if his comparison stare never happened.
"Mr. Walters!" He smiled. "You told me you weren't sure if you were coming to my party."
"Next time, I'll trust my first instincts."
"Funny." He crossed his arms. "Well, even though I hate everything about the way you do business—you know, secretly stalking, cheating, and hacking your way to the top, I'm glad that you're able to put your hatred of me to the side and be social from time to time."
"I've never hated you, Austin," I said.
"You should. I'm your top competition."
"No, you think you're my top competition." I grabbed a beer from a waiter's tray. "No one in this city is on my level, and we both know that."
"Is that so?" He smirked and pulled out his phone. "Then I take it you haven't tried to hack into my system tonight like you usually do to land a painting fraudulently."
"It's not fraud if I pay for it."
"You know what I mean." He narrowed his eyes at me. "You knock out the top bidders every year just to be an ass."
"Or because I want the paintings."
"Whatever." He tapped his fingers against his screen. "I set up a new system months ago, and I bet even you won't be able to get through it."
"I got through it an hour ago." I sipped my beer. "It was an improvement from last year, though. Your people can send my paintings to my same address or have them ready for me when I check out of this hotel tomorrow morning."
"You got through? But I …" His face turned red, and I watched him struggle to find his next words. "You know, you're more of a hacker than a cybersecurity guru. I know the real truth about you."
"I know the real truth about you, too," I said. "I've seen your sealed case records. It must've been nice having a rich father who could get you out of pretty much anything."
His face paled. "You have no idea what you're talking about."
"I don't?"
"That's what I said." He swallowed. "No idea."
"It's okay, Austin." I shrugged. "I'm sure no one else here knows about that out of control frat party you attended during your junior year of college. You know, the one where you 'accidentally' assaulted a half-drunk woman while she was dozing off in the bathroom, I'm sure no one would think that your annual, No Violence Against Women Art Auction is just a way for you to sleep better at night."
He slammed his glass onto a table and walked away.
If tonight were any other night, I would've laughed at his snarky "real truth" comment, but these days, I was beginning to feel like his words were true. I spent more time hacking into systems than building them, and after constructing the ones I intended to sell through my new company within a matter of days, I was in desperate need of a challenge.
I headed toward the door to leave, stopping dead in my tracks when I caught sight of a sexy woman in a tight purple dress on the other side of the roof. She was making every man around her do a complete double-take.
From behind, the skintight dress was hugging her curves in all the right places, and her blond hair was pinned up into a bevy of loose curls.
Accepting a drink, she shook the hand of a man in a grey suit and smiled. Then she stumbled forward a bit in her stiletto heels and gripped the railing.
Laughing, she tilted her head back and slowly turned to the side, revealing a pair of pouty red lips and a set of familiar light blue and grey irises.
Hayley?
I dropped my beer to the ground in utter disbelief. I looked her up and down again as her raspy laughter floated over the cool night air.
It was definitely Hayley. As in my best friend's little sister, Hayley. And she looked nothing like the girl I once knew. Nothing like the girl with bushy eyebrows who climbed through my bedroom window to find her brother and ask me one too many questions.
The only thing recognizable about this version of Hayley were the small scars that remained on her arms from her childhood years, but someone would have to squint to notice them.
I leaned back against the railing and watched as she continued to charm the circle of people around her, as the men studied her every move and slipped their business cards into her purse.
Her eyes suddenly met mine, and she blinked a few times. Then she smiled and left the grey suit in mid-conversation, walking right over to me.
"Hey, Corey!"
"Hello, Hayley," I said.
She didn't say anything in return. She just looked me up and down in a lust-filled gaze, unless I'd had one too many beers and was just imagining this.
"What are you doing here?" I cleared my throat. "Where's Jonathan?"
"He took Claire to the Virgin Islands for the week, so I'm here to put in bids for him. I don't know why he even bothers bidding, though. He told me that they always let him see the work days before and allow him to buy whatever he wants."
"Very true." I laughed. "Where are your girlfriends?"
"Plural girlfriends?" She gave me a faint smile. "You and I both know I never had too much luck with those."
I did know that, and I felt like shit for even asking her, so I stuck to the safe questions. I asked about her former love for all things hot chocolate and coffee, and I failed to acknowledge the fact that she was still giving me looks with her sexy blue eyes.
"I'll be living here now, you know?" she said. "Did Jonathan tell you that?"
No, he didn't fucking tell me that … "He may have mentioned it in passing."
"I'm sure he did." She smiled. "Enough about me. How have you been?"
"Good. I've just started—" I paused as she bit her bottom lip and winked at me. "I've just started my own company, so this will be my last year working with your brother. Are you still in business school?"
"I don't think I've ever seen you in a suit." She ignored my question and rubbed my shoulder. "It looks sexy as hell on you."
Is she drunk?
I blinked as she continued to rub my shoulder in a non-long-lost-friend way. It was definitely in an 'I'm trying to fuck you' way.
"Thank you for the compliment," I said, lifting her wrist and pushing it away. "When exactly did you get to San Francisco?"
"Earlier this week. Why?"
"No reason." I wondered why Jonathan didn't tell me about this. He usually gave me notice about anything regarding his family, so her sudden appearance wasn't making much sense. Then again, everything I knew about Hayley stopped making sense years ago.
"I'll be working at Statham Industries while I'm in town." Her hand was on my chest now, and her eyes were locked on mine. "I think that means I'll be seeing more of you, right?"
An image of her wrapping her legs around me while I fucked her against the roof's railing suddenly crossed my mind.
Shit …
"Um." I stepped back and pulled my phone out of my pocket. "I need to go handle something."
"You're leaving?" She looked disappointed. "Now?"
"Yeah, I need to—" Get the hell away from you. "I need to go check on something. It was very nice seeing you again, Hayley."
"Oh, okay." She looked somewhat hurt. "Well, I um. I guess we'll see each other around? Maybe in your office—next week?"
I didn't answer that. I stepped back. "Have a good night."
She didn't respond. She just stood there in that perfect, purple dress—looking like the sexiest woman I'd ever seen.
I made my way through the crowd, stopping in front of the painting I wanted most. I logged into the portal to make sure I'd rerouted the final bid to myself, and then I headed back inside the hotel.
As I waited for the elevator, I scrolled through my list of contacts. I'd been so busy over the past few months laying the groundwork for my company that I hadn't had much time for sex, but I needed to fix that tonight.
I needed to make sure I screwed all the images of Hayley writhing beneath me out of my mind, forever. I settled on Hannah, a woman who never wanted anything more than sex every six months or so.
Although she does have a problem with being on time.
The elevator doors sprung open, and I took the cart straight to the penthouse suite. I sent Hannah a text, tipped the bellman, and sent the concierge an email.
Subject: Hayley Statham + Request
Could you please make sure that whenever she leaves the party upstairs, that she leaves alone?
(If you're unsure of what she looks like, she's the most attractive woman at the party—the blonde in the purple dress)
Also, I'm expecting a guest tonight. Let her up when she arrives. No need to call and verify anything.
—Corey W.
His reply was immediate.
Subject: Re: Hayley Statham + Request
As you wish, Mr. Walters.
—Concierge, The Roosevelt Hotel
Taking off my jacket, I headed into my suite's kitchen and took out a bottle of vintage red wine and two glasses. Too impatient to wait for Hannah, I poured a glass for myself. As I sipped, an image of Hayley's red lips crossed my mind.
Fuck.
I groaned and pulled out the scotch, tossing back two shots.
An hour passed and Hannah still hadn't shown, so I poured myself a final glass of wine and headed to my bedroom. Hitting the lights, I took off my shirt and tossed it across the floor before falling back against my mattress.
I should've known.
No matter how many times Hannah claimed that she was "twenty minutes away," she always meant an hour. Period. On the plus side, she had a very seductive way of waking me up if I fell asleep.
I started to send her one last, "Where the hell are you?" text, but there was no point. She'd get here around two o'clock in the morning.
By the time I began drifting into a deep sleep, I felt her warm lips pressing against mine.
"Did you get lost?" I asked, sliding my hands against her sides. She wasn't wearing anything but lace panties and a bra.
"No."
"Do you know what the words 'twenty minutes' mean?" I slapped her ass, and she gasped.
"Um hmm…"
I slipped my hands against her back and unclasped her bra. I pushed it up her chest and palmed her breasts, stopping once my fingers caressed her nipples.
"When did you get a boob job?"
"What?" she whispered, sounding offended. "Never. Why would you ask me that?"
"Because, no offense, last time I saw you, you had B-cups. Maybe. These are definitely D-cups."
"If this is your idea of dirty talk," she whispered, "I can give you some pointers on how to do it better."
"I'm sure." I sucked one of her nipples into my mouth, and she gasped, stiffening again. I trailed my tongue against her skin, confused as to why she was this responsive to my touch tonight.
Maybe she's drunk.
"Hannah?" I asked.
She didn't answer. She simply murmured when I bit her neck.
"Hannah?" I sighed and leaned back. "How much did you drink tonight?"
"A couple of shots."
Why the hell is she still whispering?
"Do you want to finish this in the morning?" I asked. "I think you've had way more than a couple of shots."
"Not at all." She straddled me in the dark, fumbling for my belt buckle. Then she whispered, "I want to finish it now."
"Whatever you say, sweetheart." I pulled her face close to mine again and kissed her lips a few more times. For some reason, her mouth felt like perfection against mine, and I couldn't get enough of it.
I slid a hand between her thighs and pushed her panties to the side. Pressing my palm against her pussy, I slowly slid a finger inside of her—pulling it out when I felt how tight she was. "You're soaking wet…"
She moaned as I bit down hard on her bottom lip and gently tugged it with my teeth. My cock hardened beneath her hips as she writhed her body against me.
Still kissing her, I grabbed her hand and placed it on my zipper, silently commanding her to pull out my cock. Instead, she slowly slipped her hand into my briefs, stopping right when she felt how hard I was.
"Is something wrong?" I pulled away from her mouth.
"No, I …" Her voice trailed off, and her body was trembling. "I um …"
"Okay, look. We don't have to do this tonight. I would hope that you know I'm not the type that—" I stopped mid-sentence when I rubbed my hands against her arms and felt several, smooth raised lines on her skin. I rubbed them again to make sure I wasn't imagining this, but before I could completely form a coherent thought, her hair fell on my chest, and I lost my shit.
This woman was definitely not Hannah. From what I remembered, Hannah didn't have any scars on her arms and she damn sure didn't have long hair.
Confused as hell, I pushed the mystery woman off me and got the hell out of bed. I stumbled toward the nightstand and hit the lights so I could see who the hell she was.
The second the lights came on, my jaw fell to the floor.
"Hayley?" I blinked a few times, refusing to believe this. "Hayley, what the hell are you doing here?"
She didn't answer.
"Hayley," I said, my tone a bit harsher. "Why are you here?"
"I just wanted to finally have sex tonight …" She sat up slowly, slurring her words. "I wanted my first time to be with someone I knew."
"Your first time?"
She nodded, covering her breasts with her hands.
Holy shit. "Okay, babe. This is what's about to happen. You're going to put your goddamn clothes on, I'm going to take you home, and the two of us are going to act like this shit never happened. Got it?"
"I'll call a cab." She fell off the bed, hitting her head against the wall. But she got right back up and grabbed her dress, slowly pulling it over her body. "I don't need a ride from you."
"Like I would allow you to get a cab at this time of night." I zipped up my pants and sighed. "For the record, Hayley, I would never sleep with you."
"Because of Jonathan?"
"Because of a lot of things." I picked up her stilettos and placed them next to her.
"Why not? You're clearly aroused." She glanced at my pants. My erection was straining against the fabric.
"I was aroused because I thought you were someone I knew who wanted to get fucked and—" I stopped myself. "I don't have to explain myself to you. Let's go."
I left the room and grabbed my car keys off the kitchen counter, waiting for her to step out.
Holding her heels in her hands, she avoided looking at me as I led her to the elevator.
I held my keycard against the panel so it would take us straight to the lower garage, and then I stared at her all the way down. Even disheveled and intoxicated, she was a vision, and I knew from this moment on that her being in the same city was going to be a problem.
When the doors opened, she stood there—blinking, so I slipped my arm around her waist and walked her over to my car.
"This is nice." She ran her hand over the hood. "Is this a Bugatti?"
"It's a Ferrari." I opened the door and motioned for her to get in.
She didn't step forward. Instead, she laughed and dropped her shoes—confirming that she was beyond drunk.
I picked her up and helped her into the seat.  Then I placed her heels and purse onto the floor, adjusting the seatbelt for her.
Sliding behind the wheel and cranking the engine, I sped out of the garage and onto the empty streets.
"Where are you currently staying, Hales?" I looked over at her as I approached a red light.
"Hales?" She snorted. "You're not allowed to call me that anymore. Only the people who I like can, and that no longer includes you. I told you long ago that our friendship is over. Overrrrrr."
I rolled my eyes and repeated myself. "Where are you currently staying, Hayley?"
"The Four Seasons."
"Of course." Her brother owned one of the exclusive penthouse suites. I wanted to ask where she would be staying permanently, but I needed to keep this conversation to a minimum.
As I pulled onto the highway, she turned her head toward the window. "Is this how you operate these days, Corey? Leave your hotel suite open for whoever wants to come and fuck you?"
"The weather here is nice." I wasn't going there with her, ever. "I think you'll enjoy living in San Francisco."
"You always seemed like you were going to end up being the nice guy type when we were younger, you know? Not a playboy." She looked over at me. "For the record, you're sexy as hell now, and I had no idea your cock was that huge. Too bad I only felt it and didn't see it."
Jesus … "You'll also want to make sure to check out the private marina on Fisherman's Wharf."
"You didn't like the way we kissed when I was on top of you?" She leaned back in the seat. "You were gripping my ass like you didn't want the kiss to end, so I could've sworn you were enjoying it."
"I'm not sure if Jonathan is going to buy you a car while you're living here," I said, now speeding so I could get her out of my car and into her hotel room ASAP. "I highly suggest asking him to get you a private driver. Either that or make use of a town car service while you're here."
"I think you prefer your sex rough." She smoothed the hem of her dress. "I mean, it seemed like that from the way you kept biting my bottom lip. Is that true?"
"I prefer my car rides in silence. That's true."
"You know," she said, looking over at me again. "I've never slept with any of my boyfriends, so that's probably why the relationships don't last. Did you know I was still a virgin?"
I didn't answer that. The image of her staring at me and saying, "my first time" was still fresh on my mind.
"I'll be sure to insist that your brother and his soon-to-be-fiancée schedule some city tours for you when you finally sober up," I said. "I highly doubt you'll even remember any of what I'm saying to you anyway."
I managed to drive five miles without her saying a word, but she eventually cleared her throat and sighed.
"Hey, Corey?"
Please don't ask me anything else inappropriate… "Yes, Hayley?"
"I know it's been a long time since we spoke, but I still remember when you used to call."
I looked over at her, seeing her blue eyes focused on me.  "I still remember when you used to answer."
She leaned against the window and shut her eyes, and I was grateful that this conversation was over.
Minutes later, her eyes fluttered open, and she placed her hands on her stomach.
"Can you pull over?" She started heaving. "I think I need to—I think I need to vomit."
"Not in this car you don't. Just try to hold it for five seconds so I can—"
The sudden sound of splattering liquid hitting my floor ended my sentence.
Damn…
PURCHASE BOOK BELOW:
KOBO: https://www.kobo.com/us/en/ebook/over-us-over-you
NOOK: (pending)
AMAZON & iBOOKS:
http://www.whitneygbooks.com/upcoming-release-over-us-over-you/