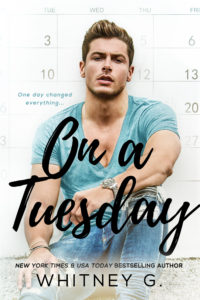 **unedited and subject to change before publication**
When Grayson Connors walked by my table, I picked up my headphones.
"Are you Charlotte Taylor?" he asked, his voice deep.
What? "Um…What did you just say?"
"Charlotte Taylor," he said, pointing to his phone. "I'm supposed to meet my tutor here, unless there's another Thackeray Coffee shop around somewhere. So, are you Charlotte Taylor?"
"I'm not sure yet."
"Your necklace says Charlotte." He glanced at it, smirking. "Are you sure now?"
"No…" My mind was blown. There was no way he was assigned to me for this semester. "My advisor would know better than to do this to me."
"What is that supposed to mean?"
"It means that the university must have made a mistake." I pulled out my phone to check my email, making damn sure I'd read my advisor's pairing as "Elizabeth Woods, English Writing" and not "Grayson Connors."
The second I opened my inbox, I saw that my advisor had emailed me half an hour earlier.
Subject: Peer Assignment Error
Good afternoon Charlotte,
Just letting you know that your previous pairing, Elizabeth Woods was made in error. She was supposed to be paired with a biochemistry major.
I've now paired you with Grayson Connors since he'll need help with his final advanced lit courses. (Make sure he gets an A. We need him to win off the field too! 🙂 )
–Charles 
I resisted the urge to scream and slowly set down my phone. I looked up at Grayson and noticed he was staring at me intently.
"Yes," I said. "Unfortunately, my name is Charlotte Taylor."
"I'd already assumed that." He set down his bag. "I'm wondering why I've never seen you around before."
"Probably because there are over twenty thousand students on this campus."
"You've seen me before, haven't you?"
"Not at all," I said. "What was your name again?"
"Funny." He sat down and looked around the cafe. "Is this where you want me to meet you on Tuesdays?"
I nodded. "Is that going to be a problem?"
"Not at all." He smiled. "I think Tuesdays are going to be my new favorite day of the week."
I rolled my eyes and bit my tongue to prevent myself from cursing my advisor again.
"You know, I don't think you're going to be a good tutor for me if you're going to be this hostile each time we meet." Grayson looked amused. "Have I done something to you previously?"
"Something like that."
"Explain it to me."
"Well, for one, you're full of yourself, cocky, and you tend to play women like pawns on a chessboard.  That, and I'm pretty sure that you think you're God's gift to women. So, yes. You have offended me previously. Now, which Lit courses are you taking?"
"Not so fast," he said, locking his blue eyes onto mine. "I think I deserve a chance to respond to that."
I tried to think of something sarcastic to say and beat him to it, but he continued before I could speak.
"First of all," he said, "I am full of myself, but I have every reason to be." He pointed to the bright blue and gold championship banners that were hanging above the bar. "I've earned this university one of those every year and I believe I won the Heisman Trophy last year, correct?"
"I wouldn't know."
"You would." He leaned closer. "Second of all, I'm not sure I'd agree with me being 'cocky' but if your definition means that I'm well aware of how fucking good I am—both on and off the field—" He paused, looking me up and down. "Then feel free to call me that whenever you want."
"You know what?" I felt my cheeks betraying me with a blush. "Let's just get to work."
"Third of all," he continued, ignoring me. "I'm not even sure what type of metaphor you were going for with that chessboard line, but I've never used girls like pawns on a chessboard. I've just never believed in dating or girlfriends, and I make it pretty clear what someone is getting when they're with me."
"How romantic."
"And lastly," he said as that familiar smirk returned to his lips. "I don't think I'm God's gift to women. I know that for a fact…"
**End of Excerpt**
PRE-ORDER 'On a Tuesday' on iBooks
ADD 'On a Tuesday' to your to-be-read list on Goodreads
Sign up for the 'live alert' to be notified the second it goes live
RELEASE DATE: SEPTEMBER 19th
(Yes, it will release on a Tuesday :-)