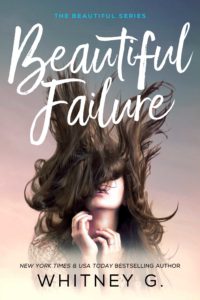 Sooo, between you and me I wrote Beautiful Failure under a pen name in 2013–months before the release of Reasonable Doubt #1. But back then it was under my pen name: Mariah Cole. 
I honestly thought that I would be able to easily return to this series after launching the three installments of RD, but RD took over (in the best of ways) and it took me a while to realize that I could only be one author at a time. 
So, I set aside this pen name–along with all of my others. (We'll get to those later. I promise)
And while I was away from author-land for a long time in 2015, I re-read this story (and the un-released sequel) and fell in love with it all over again. I also decided I wanted to re-publish it under my own name. However, since I'm a much better writer now, I made a few changes to better the structure and enhance the character development, and I'm SUPER EXCITED to release this awesome series to you!
Book 1 will release this year and Book 2 will release a couple weeks after. 
And yes,you can read a bit of Beautiful Failure in 'Just A Taste.'
**If you previously purchased the Mariah Cole version on Amazon, your file will be automatically updated with the new version upon release!